About LifeBot®
The Future Starts Here
From the simplest to the most complex of events, our products are designed for mobile connected care (EMS & Stroke Ambulance), personal survival, rural clinics, senior care (averting unnecessary ambulance runs), for comprehensive management of public safety, disaster, and combat operations.
LifeBot® owns the exclusive world-wide rights to crucial new patents and Disaster Relief and Emergency Medical Services (DREAMS™) the award winning $36 million research project funded by U.S. Army Medical Research and Materiel Command (UCMC) and the Telemedicine and Technology Research Center (TATRC).
The History of LifeBot®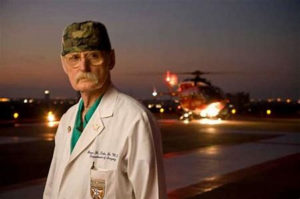 LifeBot® was founded by the late Roger Lee Heath, the prolific inventor who made possible the life-saving Automatic External Heart Defibrillator (AED) and who was sole inventor with more than 34 patents related to the field of medical technology. He served 40 years in the medical devices industry, with more than 28 years in senior management positions. Mr. Heath was recommended for the Lemelson MIT Prize by American Heart Association associates. His experience spanned nearly four decades in successful business management, marketing, design and deployment of emergency life-support and communications systems.
The idea of a "fully integrated mobile EMS telemedicine solution" operating in "real-time" was the "brainchild" of famed Trauma Surgeon, Dr James "Red" Duke, MD who pioneered "Life Flight" at Houston's Memorial Hermann Medical Center.
Together, these two remarkable individuals and visionaries brought to market the award winning LifeBot® Telemedicine Solution.
LifeBot® is a telemedicine solutions company that provides exclusive patented and military developed technologies for healthcare. These systems are used to send and receive live video, voice and patient vital-sign data transmissions primarily in support of heart, trauma and stroke victims.
LifeBot systems are also designed for management of major crises, disasters and emergencies by hospital based and field public safety emergency professionals and for the Military in battlefield operations.
We integrate capabilities not inherent in today's telemedicine communications so the benefits of achieving telemedicine, telehealth, and emergency preparedness objectives may all be fully realized.
Our Mission
"advanced telemedicine with continuity of care™"
To redefine healthcare delivery by providing the most advanced integrated Telehealth communication, monitoring, and software solutions available to facilitate improved outcomes through the seamless transfer of information for efficient, high-quality clinical care, administrative and educational services.
The LifeBot® Leadership Team
Anthony Roberts, CEO
Anthony is an accomplished healthcare executive with over 20 years of experience. Educated as a nurse, he moved his career to service line leadership role and physician practice management in the largest healthcare organization in the United States. In this role he also helped build the strategy for ICU Telemedicine for the largest intensivist group in the U.S. He was also a board member of the prestigious American College of Cardiology and many other cardiovascular committees. He has been involved in partnerships and consulting for some of the largest healthcare technology organizations.
Jason Hebert, Chief Technology Officer
Jason possesses over 20 years of broad-based software and IT management experience. He has held the positions of EVP of Operations, EVP of Business Development, VP of Sales, Director of Quality Assurance, Director of Implementation, Test Director and Senior Consultant in large organizations such as HCA, Community Health Systems, LifePoint Hospitals, Department of Defense, Department of Homeland Security, as well as smaller software and consulting organizations.
His background includes software testing methodologies, implementation, operational support, project management, implementation of industry SDLC and ITIL best practices and technology / consulting sales.
Braxton Leaberry, Vice President Sales and Marketing Operations
"Brack" is a 35 year sales and marketing veteran in the Medical Device Capital Equipment Industry with the past 25 years spent in different key leadership roles with GE Healthcare. He most recently lead all of GE's Interventional Imaging, Cardiovascular IT, and Patient Monitoring Strategic Client Operations for the entire U.S and Canada. Brack credits his consistent repeated long-term success by always being "customer centric" which allowed him to develop trusting indelible corporate C-Suite level relationships with the key goal to exceed expectations and overdeliver "customer delight"