LifeBot® Clinical Workstation and Mobile Tablet Powered by Dreams™
A desktop workstation is dedicated to "real-time" management of critical patients located in the remote hospital emergency rooms, ambulances, satellite facilities or intensive care.
We offer a mobile healthcare solution that brings high definition interactive voice and video communications to enable and facilitate access to patients and physicians (who we enable to "interact" with the patient data being transmitted by the LifeBot® telemedicine device) in real-time no matter where they are located.
This system also allows for live transmission of critical patient physiological data using LifeBot® DREAMS™ software developed with U.S. Army Materiel Command, Texas A&M, and UTHealth Science Center at Houston.
Remote patient care is now an essential element of every healthcare system. LifeBot® provides easy-to-use technology that breaks down distance barriers and facilitates access to patients and physicians specifically for critical life-saving emergencies.
The LifeBot® telemedicine workstation provides for remote access by any remote "virtual" critical care specialist. The workstation enables construction of "hub and spoke" tele-stroke or tele-trauma networks as recommended by the American Heart Association.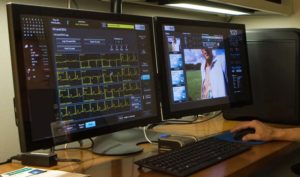 Remote emergency rooms or healthcare facilities (the spoke), who do not have 24-hour attending physicians on staff, may be connected to a central facility (the hub) who does. Rapid patient assessments may then be performed virtually and remotely at any time and in almost any place. The workstation is powered by DREAMS™ (Disaster Relief Emergency And Medical Services) telemedicine software which was developed with trauma surgeon, James "Red" Duke, and the U.S. Military. This system allows for the live transmission or reception of critical patient physiological vital signs and trended video, voice, ePCR data is recorded and selectively stored in an on-board SQL database server (a LifeBot® exclusive). This data may be printed, forwarded, or ported to EHR (Electronic Health Record) systems.
The remote specialist may utilize the LifeBot® Desktop Critical Care Workstation or the portable LifeBot® Mobile Provider Tablet to perform remote patient assessments at the hub, or central facility or almost anywhere connectivity exists. Alternatively, carts and desktops may be remotely connected between each other to establish communications for rapid patient assessments. The physician may view images and information collected by EMS by using peripherals such as ultrasound, stethoscope, video laryngoscopy, otoscope, eye scope, and others.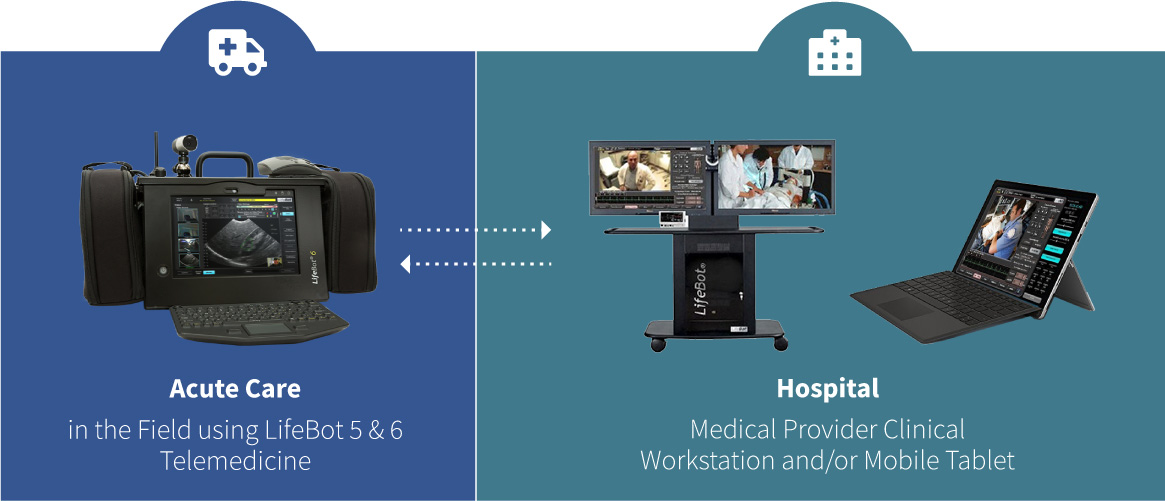 The LifeBot® Mobile Provider Tablet may be used to remotely connect to the Lifebot Telemedicine System.
The LifeBot® Mobile Provider Tablet revolutionizes speed of care by enabling any specialist neurologist, trauma surgeon, emergency medical specialist to obtain immediate telepresence or remote video, voice and data connections using a simple 1.5 pound portable battery-operated Mobile Provider Tablet solution.
The virtual physician specialist carrying a LifeBot® Mobile Provider Tablet can login and perform life-saving patient assessments and treatment directives from a remote hospital to an outpatient facility, senior care facility, to air and ground EMS and Stroke ambulance transports including major disasters and events.